The "standard" swerve drive bevel gear - now with black nitride coating for superior performance.
As time passes and experience grows within the FRC community, previously complicated build techniques are becoming more commonplace. Coaxial swerve drives, once attempted by only the most elite of teams, are now a well documented and accessible solution. Most coaxial swerve drives utilize a bevel gear pair as part of their design. After surveying FRC teams, we found almost everyone is using the same gear.
These 15-tooth 12 DP bevel gears will drop perfectly into a custom designed coaxial swerve module (swerve module NOT included), or will work great for designers looking to transfer torque through a right-angle gearbox.
Diametrical Pitch - 12

Pressure Angle - 20 Degrees

VEXpro gears require lubrication. We recommend white lithium grease.
Application Example - Revolution Pro 2 Swerve Module
The Revolution Pro 2 coaxial swerve/crab module was designed and is distributed by 221 Robotic Systems. Utilizing VEXpro hardware wherever possible and showcasing the battle-tested abilities of the VEXpro 15T Bevel Gear with 3/8" Hex Bore, this module ships fully assembled and is a great way for teams to get started with a swerve/crab drive. Click here to learn more and order yours today!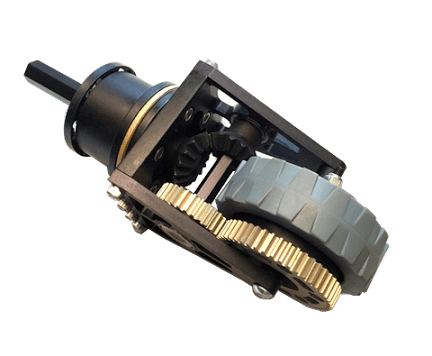 15t Steel Bevel Gear (12 DP, 1/2" Hex Bore) (217-5907) - 0.12 lbs
Click the button next to a file to view it in your browser.