Mecanum Wheel Replacement Roller Kits
Replacement roller mounts with rollers attached for the 4", 6", and 8" Mecanum Wheels.
4" Kits contain (6) replacements (one full wheel)
6" Kits contain (5) replacements (half of one wheel)
8" Kits contain (7) replacements (half of one wheel)
Mecanum Wheel Update
The 4" and 6" Mecanum Wheels have been updated for the 2015 season. The differences include a co-molded single bushing and a new co-molded spring steel tab (seen in the image below as brown and green, respectively). Rollers with the internal improvement can be identified by the wider base tab outlined in green below. Please contact prosupport@vex.com with any questions or concerns.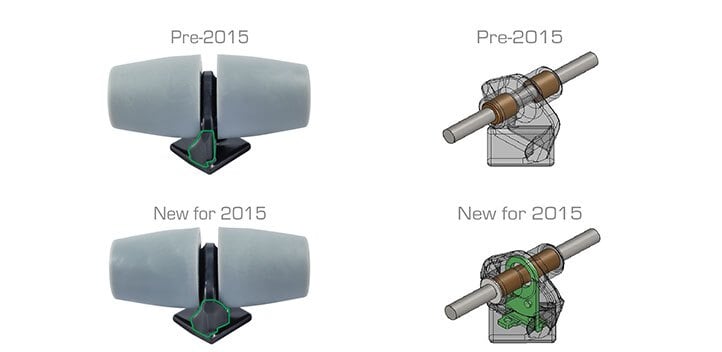 4" Roller Kits: (6) Replacement Rollers & Roller Mounts
6" Roller Kits: (5) Replacement Rollers & Roller Mounts
8" Roller Kits: (7) Replacement Rollers & Roller Mounts
Roller Mounts - ABS-PC
Rollers - Rubber