Mecanum wheels allow savvy robot designers to create drivetrains capable of moving in any direction using a standard chassis shape. Simply power each wheel with a different motor and change the directions the wheels spin to get your robot to move in different directions!
Mecanum wheel assembly hardware is separate from sprocket mounting hardware. Sprockets are screwed into captive 8-32 standoffs. This allows for easy removal and replacement of sprockets without disassembling the entire wheel. No more worrying about your whole wheel falling apart just because you wanted to remove the sprocket.
These mecanum wheels were designed from the ground up to give the smoothest ride possible. Our construction method allows for a constant contact patch with a narrow profile. Each roller is tailored for the individual wheel diameter, and provides the correct, constant radius. We don't share rollers between wheel types -- these wheels aren't "almost round" -- they're actually round! This smooth-ride provides higher efficiency and reduces wasted power. This is especially important in mecanum drivetrains to provide smooth holonomic motion without high motor current draw.
VEXpro Mecanum Wheels are manufactured from Glass-filled Nylon, with ABS-PC roller mounts and rubber rollers.
Note: The 2" Mecanum Wheels are manufactured from anti-static materials to prevent static build up that can potentially damage robot electronics.
2", 6" & 8" Wheels ship fully assembled. 4" Wheels require assembly.
Mecanum Wheel Update
The 4" and 6" Mecanum Wheels have been updated for the 2015 season. The differences include a co-molded single bushing and a new co-molded spring steel tab (seen in the image below as brown and green, respectively). Rollers with the internal improvement can be identified by the wider base tab outlined in green below. Please contact prosupport@vex.com with any questions or concerns.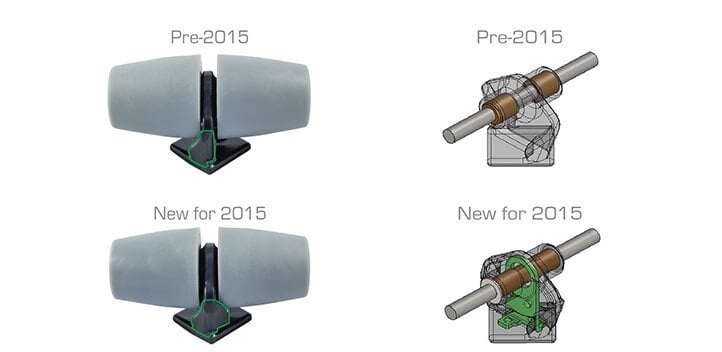 A set of new-style 6" Mecanum Wheels were endurance tested on the 2015 FIRST ® Robotics Competition field to see how they handled the scoring platform bumps. After 4+ hours of drive time, the only damage to the wheels was worn rubber on the rollers.
Body - Glass filled Nylon
Roller Mounts - ABS-PC
Rollers - Rubber
2" Mecanum Wheel - 0.122 lbs
4" Mecanum Wheel - 0.55 lbs
6" Mecanum Wheel - 1.25 lbs
8" Mecanum Wheel - 1.90 lbs
4" / 6" / 8" Mecanum Wheels
Coefficient of Friction: 1.0
Mounting Holes: (6) #8-32 threaded mounting holes (into captive standoffs) on a 1.875" bolt circle
Bearing Hole: 1.125" OD Bearing Hole
Bearing Retainers: (3) 0.130" holes (designed to self-tap with a #8 screw) on a 1.4" bolt circle
Load Rating: Conservatively rated for use on 200 lb robots
Mounting Hardware Guide
Mounting (1) Keyed or Hex VersaHub - 1/4" or 3/8" long screw
Mounting (1) Plate Sprocket and (1) Sprocket VersaHub - 1" or 1.25" long screw
Mounting (2) Plate Sprockets and (2) Sprocket Versahubs - 1.5" or 1.75" long screw
2" Mecanum Wheels
Mounting Holes: None
Bore: 1/2" Hex
Load Rating: Rated for intakes in FRC / FTC / VEX U. Drivetrains in FTC / VEX U
4" Mecanum Wheels

6" Mecanum Wheels

8" Mecanum Wheels

Misc. Files
Click the button next to a file to view it in your browser.
We found other products you might like!