Programming Software
Go beyond the build and learn how to program
Unleash the full potential of your robot
Bring your code to life with VEX IQ
VEX IQ provides free programming software that directly involves students in the learning process and allows them to take ownership of their STEM education. Robots bring code to life and allows students to see how the concepts they're learning has a direct impact in the real world, and how individual math and engineering elements come together to form a solution to a real problem.
There are two programming options available for VEX IQ
Graphical coding for beginners
VEXcode IQ Blocks
Textual coding for experienced users
ROBOTC Text
Drag, drop and drive
Program with blocks in VEXcode IQ Blocks
VEXcode IQ Blocks is a graphical drag & drop programming environment powered by Scratch Blocks. We've added over 100 VEX specific blocks to make programming a VEX IQ robot easier than ever before. This allows students to experiment and explore programming without the complexities of compiler errors or a text-based language.
Students can get their robot up and running with as little as one block. More experienced users can create fully autonomous competition robot programs. All features of every VEX IQ sensor is available to make your robot do more than ever before.
Features include:
Built-in video tutorials
Over 40 pre-built example programs
Easy access to our STEM Labs channel
VEXcode IQ Blocks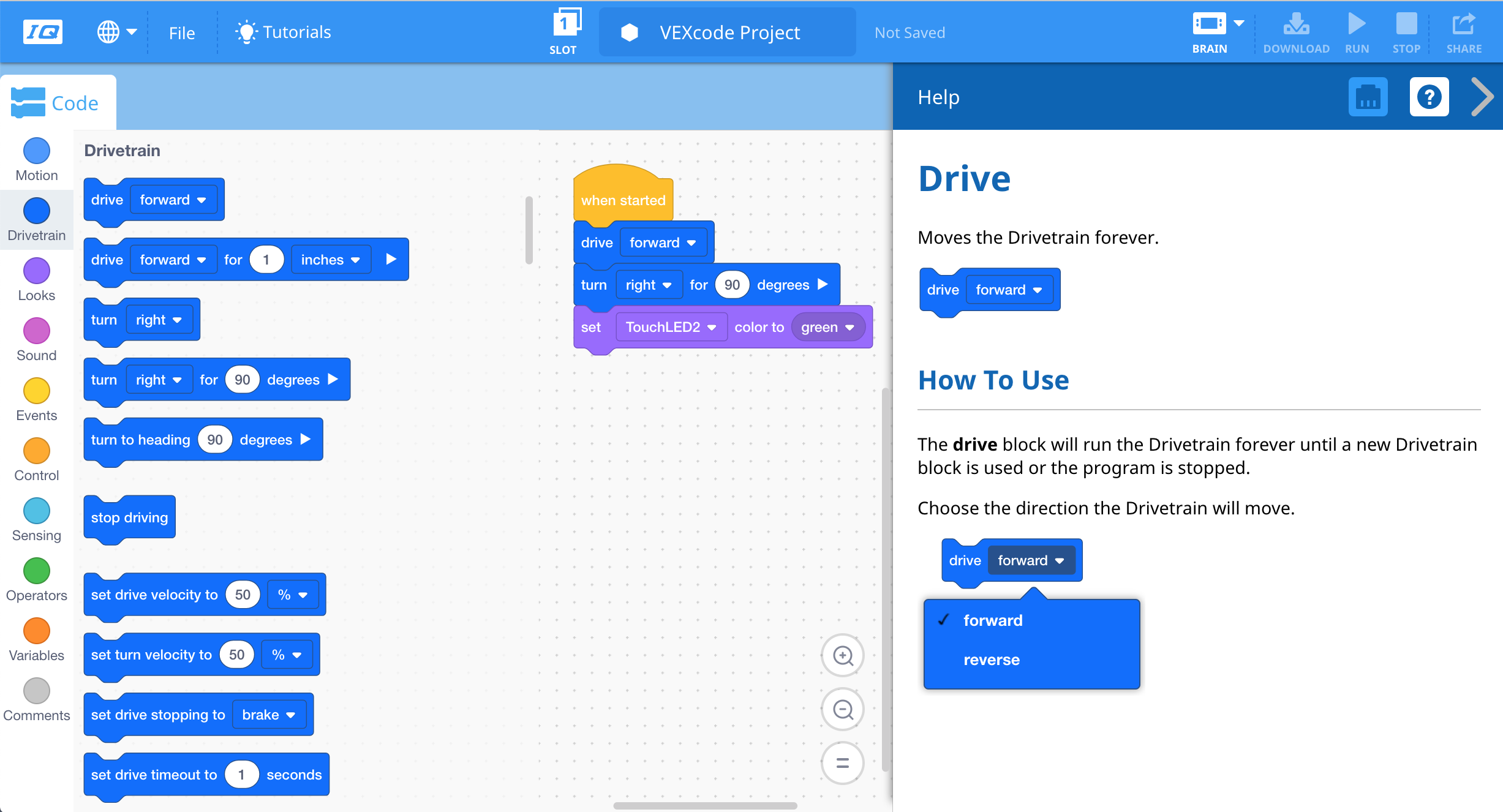 ROBOTC
A familiar tool for veteran programmers
Fully featured text-based C-Programming software
This advanced programming option includes many useful tools that help programmers get up and running as quickly as possible. ROBOTC users learn key skills that easily transition to the real world, industry standard C-Programming languages used by professional engineers and computer scientists.
ROBOTC has a similar look and feel as the programming environments used in the computer science industries, but also includes many useful tools that help beginner programmers to get up and running as quickly as possible.
Features include:
Real-time debugger
Over 200 included documented sample programs
Free web-based curriculum
Other programming options: