Compete on the World Stage.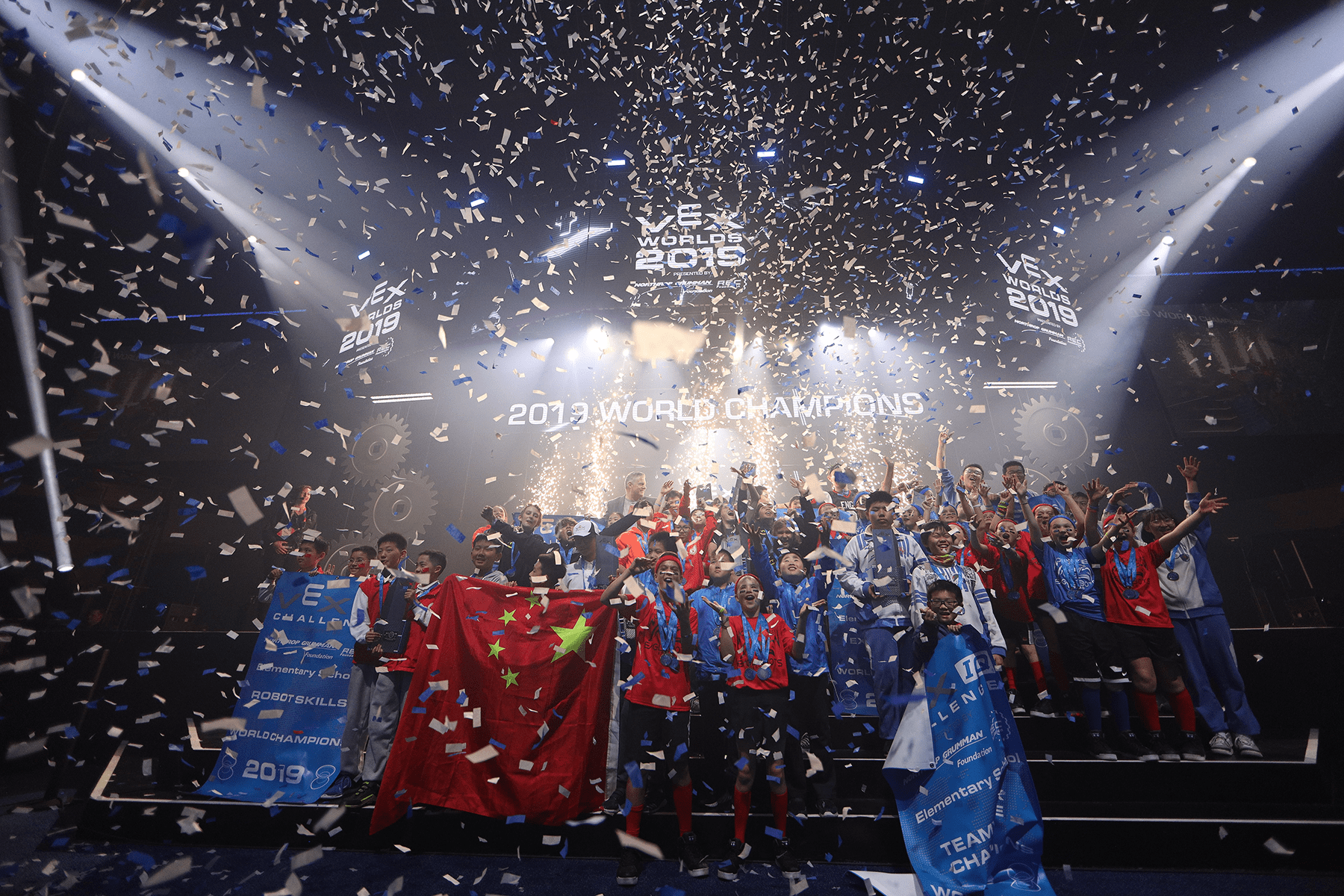 In the VEX Robotics Competition, presented by theRobotics Education & Competition Foundation, teams of students are tasked with designing and building a robot to play against other teams in a game-based engineering challenge.
Classroom STEM concepts are put to the test as students learn lifelong skills in teamwork, leadership, communications, and more. Tournaments are held year-round at the regional, state, and national levels and culminate at the VEX Robotics World Championship each April!
Middle school, high school, and college/university
More than 11,500 teams from 45 countries playing in over 900 tournaments
Local, regional, national, and world competitions
Standard Matches: Two alliances of two teams each playing against each other
Robot Skills Challenge: One robot playing alone against the clock
Online Challenges: Unique contests using CAD, animation, essays, and more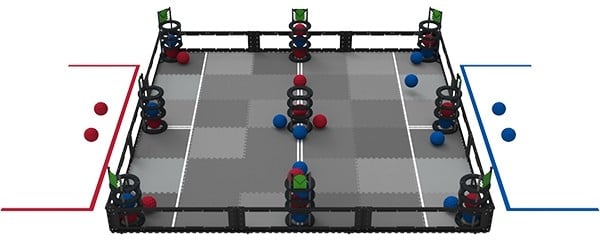 The Game
VEX Robotics Competition Change Up is played on a 12'x12' square field configured as seen above. Two (2) Alliances – one (1) "red" and one (1) "blue" – composed of two (2) Teams each, compete in matches consisting of a fifteen (15) second Autonomous Period, followed by a one minute and forty-five second (1:45) Driver Controlled Period.
The object of the game is to attain a higher score than the opposing Alliance by placing Balls in Goals, and Connecting Rows.
Details
There are thirty-two (32) Balls on a VRC Change Up Field. Sixteen (16) Red and sixteen (16) Blue. There are also nine (9) Goals placed around the field.
Balls are to be Scored in Goals. Each scored Ball is worth 1 point for the corresponding Alliance color. The highest scored Ball in a Goal will be owned by the corresponding Alliance color.
If an Alliance owns three goals in any direction (vertical, horizontal or diagonal), they will receive a 6 point bonus for a Connected Row. But be careful, Balls can be descored by the opposing Alliance at any time during the Driver-Control period!
The alliance that scores more points in the Autonomous period is awarded with (6) bonus points, added to the final score at the end of the match. Each Alliance also has the opportunity to earn an additional Win Point by completing their Home Row during the Autonomous Period. This Bonus can be earned by both Alliances, regardless of who wins the Autonomous Bonus
Scoring
| | |
| --- | --- |
| Each Ball Scored in a goal | 1 point for the Alliance corresponding to the Ball color |
| Each Connected Row | 6 points for the Alliance corresponding to the Ball color |
| Autonomous Bonus | 6 points |
| Completed Home Row in Autonomous | 1 Win point |
Ready to start a VEX Robotics team?
Competitive robotics put your skills to the test. Get started!
Find a robotics competition near you!
Teams compete year-round leading to the VEX Robotics World Championship. Learn more!
Apply for a grant.
REC Foundation Team Grant Program matches schools and organizations. Learn more!
The Robotics Education & Competition (REC) Foundation seeks to increase student interest and involvement in science, technology, engineering, and mathematics (STEM) by engaging students in hands-on sustainable and affordable curriculum-based robotics engineering programs across the U.S. and internationally.
In addition to operating and supporting competitions for some of the world's leading robotics platforms and organizations, including VEX, TSA, and BEST Robotics, the foundation also provides program support and
workshops focused on technology and professional development for educators. The REC Foundation is a US-registered 501(c)(3) non-profit educational organization.
For more information, visit the REC Foundation website at http://www.roboticseducation.org.