From elementary school through college, VEXcode is a coding environment that meets students at their level. The intuitive layout of VEXcode allows students to get started quickly and easily. VEXcode is consistent across Blocks and Text, across VEX 123, GO, IQ and V5. As students progress from elementary, middle, and high school, they never have to learn a different block, code, or toolbar interface. As a result, students can focus on creating with technology, not trying to navigate a new layout.
Drive Forward is the new Hello World
We all know that robots attract kids to learn STEM. VEX Robotics and VEXcode are providing opportunities for students of all ages to participate in learning the code that makes these robots work. VEX makes computer science come to life through collaborations, hands-on projects, and engaging experiences. From classrooms to competitions, VEXcode helps to create the next generation of innovators.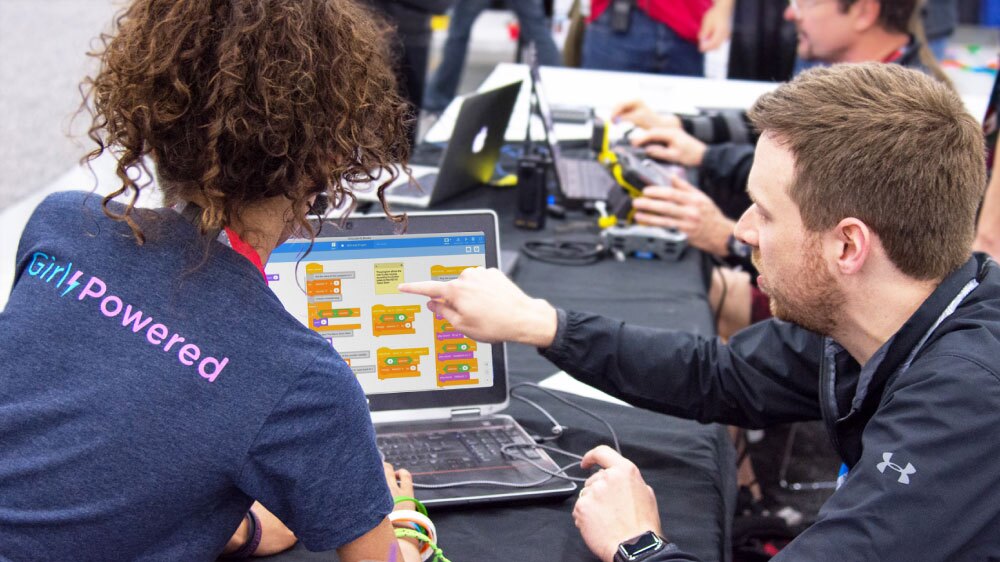 Drag. Drop. Drive.
VEXcode's Block-based interface is the perfect platform for those new to coding. Students use a simple drag and drop interface to create functioning projects. Each block's purpose can easily be identified using the visual cues like its shape, color, and label. We've designed VEXcode's Block-based interface to allow those who are new to robotics to get their robot up and running faster. Students can now focus on being creative and learning Computer Science concepts, not stuck trying to figure out the coding interface.

Learn More >
Graduate to Text Coding
Once students are ready to transition from Block-based coding to Text-based coding, VEXcode built-in tools are ready to help. With the Code Viewer, students can see in real-time the C++ or Python code generated by each block added to their project. Once students feel comfortable understanding how each block coordinates to specific text coding, they can convert their Block-based project to a Text-based project with a single button press.
Code from Anywhere
Students can continue their learning away from their robots using VEXcode VR. This 100% online, browser-based platform allows students to experience all of the features of VEXcode platform with a virtualized robot. Students can complete activities on different Playgrounds, each of which are specifically designed to highlight key Computer Science skills and concepts. VEXcode VR allows students to continue their learning with Robotics outside of the classroom.
Learn From Anywhere
The VEX Computer Science curricula provides students with a fun and engaging way to learn authentic applications to Computer Science concepts. Using VEXcode VR and engaging robotics-based activities, the VEX Computer Science curriculum continuum uses the VEXcode block-based coding system as an introduction to coding. Within the continuum, students progress to learning Python, the fastest growing programming language in the world. Each course of the VEX Computer Science curriculum will have teacher resources and professional development.


Code Like a Pro
VEXcode Pro's interface provides students with authentic programming experience as they become more experienced programmers. Students will use the same tools and programming languages that professionals use every day. Students will develop their coding skills, acquire workforce readiness, and develop their identity as a programmer. VEXcode Pro allows your VEX robot to become an engine of invention, only limited by our creativity and imagination.


More accessible than ever
VEXcode even helps across language barriers, allowing student to read blocks and comment programs in their native language.

Accessible everywhere.
VEXcode is supported on Chromebook, Windows, Mac, iPadOS and Android Tablets