VEX V5
Hands-on engineering limited only by imagination.
Invigorate a passion for STEM with robotics!
VEX V5 is a STEM learning system designed to develop crucial problem-solving skills and computational thinking that will serve students through grade school and beyond.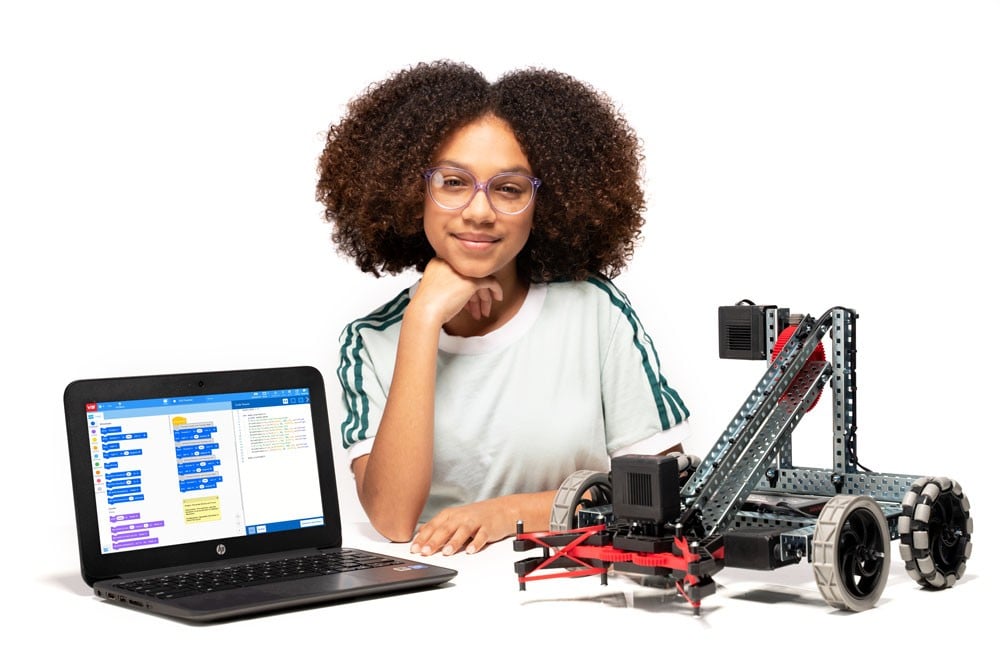 ---
VEX V5 Construction and Control System.
VEX V5 is a metal-based robotics platform with bolt-together pieces that are machinable to create any mechanism. Students can begin at any level and move to more advanced engineering concepts as they explore and challenge their robotic designs and programs. The VEX V5 Brain enables wireless driving and wireless programming while the V5 Controller provides users with instant feedback from the Robot Brain.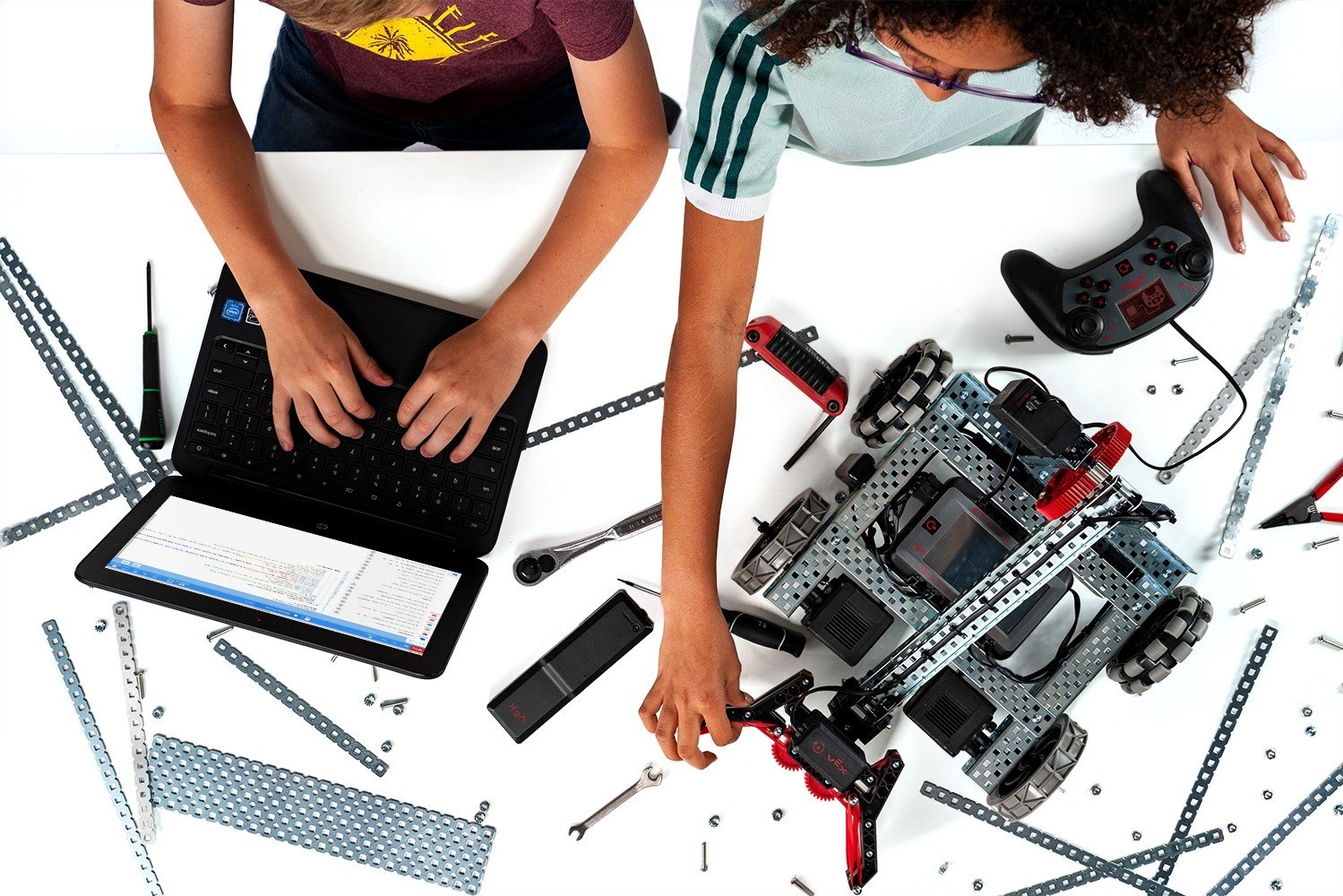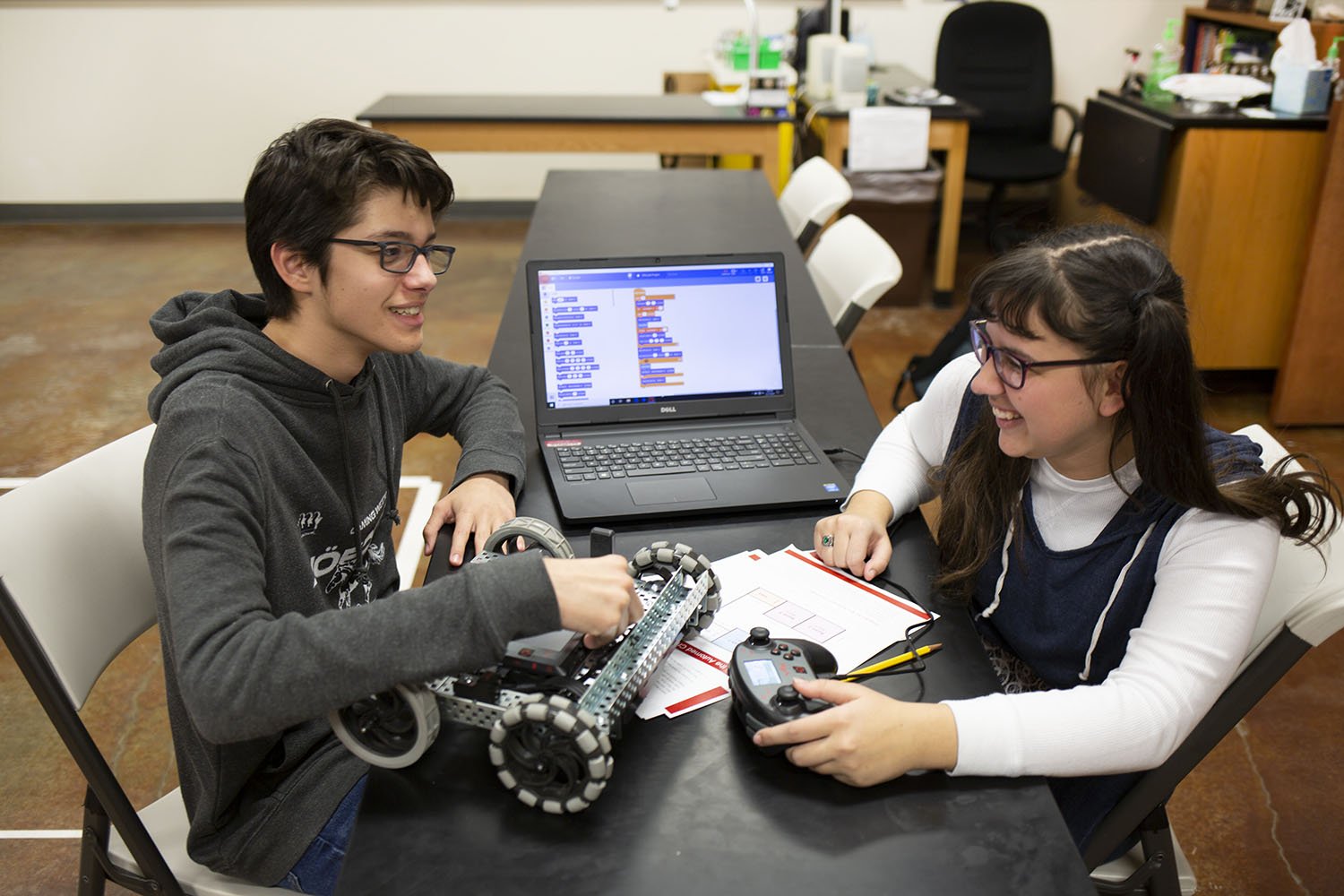 VEXcode and 21st century skills
VEX V5 can be coded using VEXcode, a coding environment that provides students with an authentic programming experience and enables their VEX robots to become an engine of invention. Students use the same tools and programming languages that professionals use every day. With VEXcode, students acquire workforce readiness, and develop their identity as a programmer.
---
VEX Robotics Competition
VEX Robotics Competitions ignite the competitive spirit! Every year, a new VRC game is introduced and this year's game is called CHANGE UP. In preparation for competition, teams machine a robot that can excel within the game's rules and regulations to score as many points as possible. Competitions are held across the country and culminate at the VEX Robotics World Championship in April!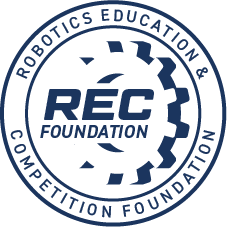 The Robotics Education & Competition (REC) Foundation seeks to increase student interest and involvement in science, technology, engineering, and mathematics (STEM) by engaging students in hands-on sustainable and affordable curriculum-based robotics engineering programs across the U.S. and internationally.
In addition to operating and supporting competitions for some of the world's leading robotics platforms and organizations, including VEX, TSA, and BEST Robotics, the foundation also provides program support and
workshops focused on technology and professional development for educators. The REC Foundation is a US-registered 501(c)(3) non-profit educational organization.
For more information, visit the REC Foundation website at http://www.roboticseducation.org.
---
STEM Labs
VEX V5 comes with free plug-in lessons called STEM LABS. These fun, easy to follow, hands-on lessons are aligned with educational standards. They encourage teamwork, collaboration, and guided exploration!